Last Updated: September 12, 2022
Water Scarcity
Melting glaciers, water scarcity, exodus: How climate change reality is biting Ladakh villages
Global warming has been leading to melting glaciers in the Hindu Kush Himalayan Range, where Ladakh's located. This has caused a water crisis in the region.
Kulum, Leh: "There's no water," said Sonam Chondol, an erstwhile resident of a ghost hamlet in Leh district, flatly.
"There's no grass to feed our livestock, not enough to irrigate our fields. Why would we go back?"
Chondol, along with 6 other families from her village of Upper Kulum, decided to leave their homes over 10 years ago and migrate to the nearby town of Upshi — about 5 km away — for a better chance of securing their livelihoods.
Chondol set up a confectionary shop on the road that takes tourists towards the Puga hot springs, and ekes out a living from the footfall her shop receives.
Small as the number of residents that left is, the experience of water scarcity in Kulum has been enough to alarm Ladakh's district authorities and NGOs, serving as a warning for what the future of the region could hold if measures to mitigate climate change are not immediately put in place.
Like most of Ladakh, Kulum is glacier-fed, depending on the water that dribbles down the mountains from snowmelt.
But over the last few decades, the source of this water has been waning because of global heating.
The Hindu Kush Himalayan Region — in which Ladakh is located — is also called the third pole because of the volume of glacial ice it stores.
These glaciers, which are the source of 10 major river systems, are warming much faster than the global average.
Shakeel ul Rahman is a sub-divisional officer of agriculture in Leh district working on increasing climate-resilient agriculture in the region to cope with changes in the water supply.
"There is a lot of stress on Ladakh's water sources, and the melting or erosion of glaciers is going to become a huge challenge.
If we don't act now, there will be more out-migration, more abandoned villages," he told ThePrint, gazing at Leh's snow-capped peaks from his office window.
An exodus
The most obvious sign of global warming in Ladakh is the changing face of the mountains themselves.
Seventy-three-year-old Tsering Angchuk, who also abandoned his home in Upper Kullum, pointed to his shins, just below his knee, and said: "More than 15-20 years ago, when it snowed, it would come up to here.
But now, it's barely a few inches. The mountains barely have any snow on them".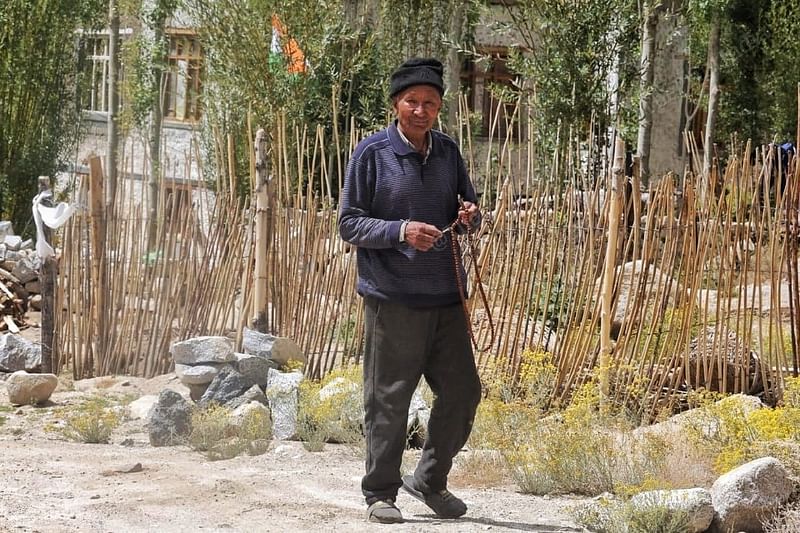 Angchuk is not mistaken. Scientists have recorded a retreat in both snowfall and glacial mass in Ladakh over the last few decades.
Snowmelt and rainfall in the months of March and April would irrigate their fields enough to sow barley, wheat, peas, and potatoes.
But with lower levels of snowfall, the sowing season has gone awry.
"We have observed that snowmelt is happening much earlier, and so the peak of discharge is happening in spring, leading to a shortage in the summer season.
There's also a reduction in soil moisture, which can cause springs to dry," Dr. Anil Kulkarni, a glaciologist and distinguished scientist at the Indian Institute of Science, told ThePrint.
Angchuk says he's the first to have led the exodus from Upper Kulum in 2012, two years after the devastating cloudburst of 2010 damaged part of a glacier-fed spring supplying their village with water, eventually leading it to dry up.
The lack of spring water and the shift in the monsoon season towards the winter made agriculture completely unviable, he said.
But even within the range of a few kilometers, topography in the village varies greatly. In Lower Kulum, a settlement of four households about a kilometre-and-a-half downstream of Upper Kulum, residents are slightly better off.
The spring supplying Lower Kulum with water hasn't fully dried up yet, allowing for some subsistence farming.
"We didn't leave because we could manage with whatever little water we got from the spring. But it has been increasingly difficult.
We don't have as much of a yield as we did before 2010," said Urgan Chosdol, a resident of Lower Kulum.
Climate resilience and adaptation
In the neighboring village of Igoo, concerns about water scarcity are mounting.
"The water flow is erratic. The glacier that supplies our village has reduced a lot in size.
Water that used to flow till September has now waned around mid-August," Tsering Gurmet, a village leader, told ThePrint, adding: "It rains at odd times, which makes farming difficult".
A 2016 study by scientists from Jawaharlal Nehru University (JNU) found that climatic changes in Leh showed a "warming trend" with varied precipitation that suggests "overall the region is receiving more rainfall than the arid region is used to".
According to Tashi Nurbu, another resident of the village, a 20-year-old scheme created small bunds or dams below the glacier supplying the village with water, which caused sheets of ice to freeze, creating a reservoir.
This ice reservoir, Nurbu said, supplied water even in the summer months, but the bunds broke some years ago.
"This dam system should be rebuilt because it really helped keep the supply of water regular when we need it the most, After it broke, the ice hasn't formed like it used to," he said.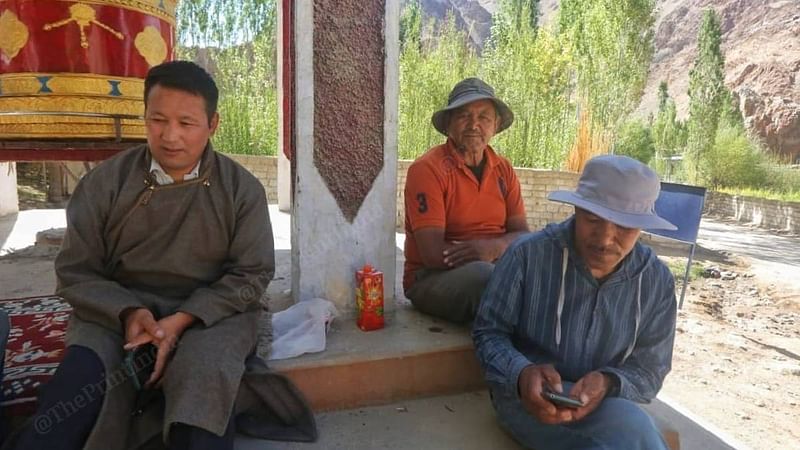 The idea of creating a reservoir of ice up in the mountains — called an artificial glacier — is credited to Chewang Norphel, a civil engineer who invented the model in the 1980s after observing how droplets of water from a tap froze once they hit the ground.
A newer prototype, called an ice stupa, was pioneered by engineer Sonam Wangchuk in 2013.
The conical shape of the glacier means less surface area is exposed to the sun, further regulating the water downstream.
The ice stupa consists of a pipe that draws water from a glacier or stream and is taken to a suitable location at an elevation.
There, water is slowly released through a sprinkler, which forms a base of ice. As the water continues to be sprayed, the ice builds and builds, till it resembles a vertical glacier.
This glacier is designed to melt through the early summer months, to make up for the shortfall in recent decades.
In 2019, this model was implemented by the Ministry of Tribal Affairs alongside Wangchuk's organisation, the Students' Educational and Cultural Movement of Ladakh (SECMOL) in Lower Kulum.
"We tried it in 2019, but it failed because we made it too close to the village and it melted away too quickly.
We were only successful this winter, in 2022. It takes a lot of trial and error, and to make the stupa we had to trek 5- 6 kilometers uphill from here where temperatures are lower and the ice can properly form," said Chosdol.
Though the intervention has been found to mitigate the effects of water scarcity, it is expensive and high maintenance, prone to pipes getting jammed due to freezing temperatures.
It has also given rise to other unforeseen consequences — in the village of Phayang, for example,  20 km away from Leh, the diversion of water to form an ice stupa led to resource conflicts with a neighbouring village.
Earlier this year, Leh's agriculture department decided to implement a scheme called the Special Development Package in Lower Kullum, which includes installing a solar-powered borewell to draw groundwater for micro irrigation — technology that Rahman says was not necessary till recently.
Micro irrigation involves methods that use less water, through drippers, sprinklers, and foggers.
"Initially, the residents were skeptical about whether micro irrigation will work, but this year they have grown a good amount of potatoes and summer squash.
Villagers in Upper Kullum are also now considering letting us implement it there," Rahman told ThePrint, who added that the scheme would be implemented in a dozen other villages.
Lowering emissions
Despite its vulnerability to climate change, weather and climate data from the Ladakh region has been limited, says Dr. Subrat Sharma, head of the regional GB Pant National Institute of Himalayan Environment, which opened in Ladakh only 3 years ago.
"Instrumental evidence of climate change has been very little in this area, but there is other, indirect evidence of climate change in the region, like the increasing frequency of cloud bursts," he told ThePrint.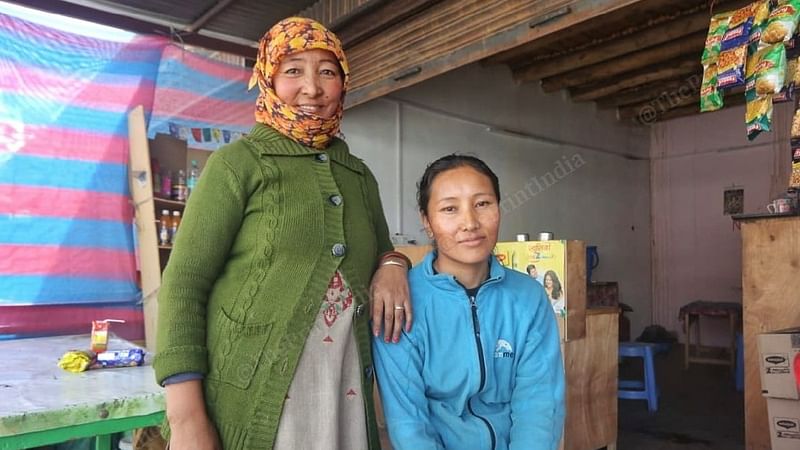 Average temperatures across the globe have warmed up by 1.1 degrees celsius since pre-industrial times, according to the Intergovernmental Panel on Climate Change's recent reports.
Efforts across the world are on to limit global warming to 1.5 degrees celsius —  at which point Ladakh, which is especially vulnerable to climate change, is likely to warm up by 2.23 degrees.
At such temperatures, weather patterns are likely to change even more dramatically than they already have, scientific evidence suggests.
"There will be a lifespan to interventions like artificial glaciers. We need more scientific scrutiny to see in which conditions they will succeed and fail," said Kulkarni, adding: "The elephant in the room here is greenhouse gas emissions. The only permanent solution is to cut emissions".
For Angchuk, moving back to Upper Kullum — where houses and fields lie abandoned — will take a lot of convincing, even if irrigation schemes and artificial glaciers help the flow of water along.
"Will the water really come? I didn't even know about borewells until recently. They say they will install it. Maybe I'll consider moving back if it works," he said.
(Edited by Uttara Ramaswamy)
Source Link: https://theprint.in/india/melting-glaciers-water-scarcity-exodus-how-climate-change-reality-is-biting-ladakh-villages/1123797/